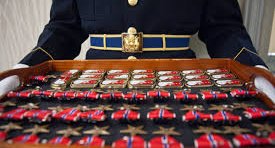 DEPENDIBILITY; INTEGRITY; DECISION-MAKING; LOOKING OUT FOR OTHERS; INITIATIVE; TENACITY; PROFESSIONAL PRESSANCE; ADAPTIBILITY. Why is A.S.T. Landscape Services Inc. different? Because of the 8 most valued characteristics of United States Armed Forces!
If you have not heard of A.S.T.; respectfully, please take the time to read this post. Our title and website suggests that we provide a conglomerate of services; we do and we believe that we are a great organization to hire and that we have built the "best organization to work for".
The why?
As Tim and I walk our grounds, or meet with our valued clients; the premise is the same? We cannot think of better people that drape our left and right wings; shoulder to shoulder with our entire team as we work daily to get better in everything we do.
Whether we continue our technology upgrade, our implementation of Lean Six Sigma, leadership development, a safe hiring program; developing a robust Military Veteran program that provides mentorship, continued pursuit of higher education, certifications and a culture of "trust";
"our continued pursuit of the most talented Veterans will not stop. Moreover, it will intensify and I will not stop". 
I take it very personally when I hear a Veteran not receiving a returned call from a recruiter, or not being offered an explanation as to why they were not selected for a position. A.S.T. will continue its pursuit of building partnerships with outstanding community leaders, CEO's and property managers. Our services are robust, broad and tailored for reliable execution and delivery of a flawless product.
See, it's a very simple concept; as I open my office door I thank God that he has blessed A.S.T. with the finest former and retired Military Veterans that the Armed Forces have produced. A.S.T. is a Veteran friendly, centric and Veteran Spouse organization; I have no problem or reservation saying this with pride and the highest esteem. Our Veterans push the entire organization to greatness. They have formed bonds, provided immense leadership and mentoring to our Non Veteran staff, and everyone has embraced the Vision and the cause.
When one of our departments and/or leaders is faced with a challenge; we follow the very simple rule; "do not leave a fallen comrade". We rally; we execute, assist and coach each other to success. We are not enamored with titles, money; instead we are bonded through humility, being unselfish, being great teammates and "taking a great deal of pride and ownership", with everything we do. Each member of our family holds one another accountable.
Three fantastic Military Veterans on-boarded around the same time frame; they are not only bonded through their experiences of a deployment, traveling the world with their families; the hardships of what transitioning Veterans encounter; they are bonded on their relentless effort to make each other "great". They are all pursuing higher, and higher education. They grind, crunch and display honorable custom and courtesies. They are highly skilled, have an unmatched work ethic and "do not know how to fail". "Fail and I can't" does not exist in their vocabulary. Those words have not existed in our organization and never will.
If we error with a client, it is fixed immediately! We do not want any of our names associated with even the "perception" of missing our mark! Look, are we perfect? No! Are we perfect in our customer service recovery, kinship, and desire to challenge each other? Emphatic yes! Are we perfect in accepting responsibility? Yes. Will we error twice on the same issue? No. If we error twice on the same issue then I call it an anomaly.
I was on a call with a Veteran and speaking to this Veteran about our organization and what we offer. I had a long talk with this person who epitomized character, honor and integrity.  This Veteran; understandably stated that they had a perception of Landscaping/Construction companies. This was a fair analysis, and I strongly agreed with this person. I have researched, worked and understand the perception, and the reality of the premise. Concurrently, I advised "we are not that perception and never will be".
We have a CEO that is predicted on honesty, integrity and holding people accountable. He is also supporting a Vision to hire the best, most qualified people with the highest of moral character, honesty and reliability. Conversely, A.S.T. does not support organizations paying their staff under the table and some blatant disregard's for the laws of this land.
"This practice must stop, as you are shamming honest, hard working people that are abiding the law".
We continued our conversation and this person will be joining us for an interview. Additionally, if this interview goes well for both parties, they will be joining our incoming retired Sergeant Major.
A.S.T. Landscape Services Inc. is different; we believe that we provide very competitive benefits, pay for performance and a very supportive, challenging and rewarding Executive Leadership Team that will mentor and guide you "true north"! The organizational chart is filled with challenging and rewarding opportunities.
As one of our continued partners, we will not falter and we will continue to provide you unmatched customer service and delivery of an outstanding product. We will continue hiring more Veterans and always keeping our organization open to those that have not served; however, our expectations of Veterans and Non-Veteran staff is the same; be great in everything you do, cover each member of the organization, and push yourself daily to obliterate your goals and the companies milestones. More importantly, when you join A.S.T., you are being welcomed into a very special family.
God Bless-Henri